This section is a list of obituaries of noteworthy members of the Louisiana LGBT+ community. This list is a work in progress and is updated periodically. Please feel free to submit names and/or links to obituaries of people you think should be included.
Lisa Beaumann
Lisa Beaumann, a New Orleans performer best known for her illusion of Liza Minnelli, ""made her mind up back in Chelsea, when I go, I'm going like Elsie."" With great fanfare and flourish, Lisa-who heard the music play, and who lived her life in a cabaret-sashayed away on November 29, 2018, after a yearlong battle with cancer. Her life partner of sixteen years (2002), Marcus Martinez of Mississippi, survives her. Lisa was born Riley Bowman Wright, III, on June 24, 1953, in Winnfield, LA, to her late parents, Riley Bowman Wright, Jr., and Lee Ovill Berry Wright. She is survived by her sister, Olive Wright Nicolosi, one niece and three nephews: Sharon, Travis, Kevin, and Keith. In 2016, she lost her other sibling, Cherry Wright Meadows. She attended Haughton High School and graduated from Louisiana Tech University in Ruston with a Bachelor of Fine Arts in speech, with concentration in theater. Lisa started performing in Shreveport and later moved to New Orleans where she made her drag debut in 1973 at The Cabaret. Like many aspiring artists, she travelled the world to gain experience. Lisa headlined in Memphis, Nashville, Paris, and Berlin-among other cities over the years. Her strategy paid off. She was crowned both Miss Gay New Orleans and Miss Gay Gulf States in the early eighties. In the mid-eighties, she went on to compete in the Miss Gay America pageant representing Tennessee, where she lived briefly. Early in her career, Lisa lit up the stage at a variety of show bars in New Orleans, including Travis', The My O' My Club (French Quarter), and other venues for shows, special events, and fundraisers. A full-fledged entertainer, she officially changed her name to Lisa Beaumann in June of 1992. Lisa is best known to the gay community as ""one of the original ladies of Oz"" on Bourbon Street, where she performed for a quarter century under the direction of the late Tommy Elias. Lisa excelled at illusions, and became known for her fabulous impersonations of Liza Minnelli, Judy Garland, and Carol Channing. That led Tommy and his brother, Michael, to feature her in Glitz, a theatrical showcase of The Art of Female Impersonation that played at Harrah's Casino and other local theaters. For the past 18 years, she has also served as the emcee and DJ at The Corner Pocket Bar, filling the high heels of the late Lee Fetherston (Ms. Fly). Her official bio from Oz states that Lisa is ""The first person in the city of New Orleans to achieve all of the city's highest drag honors – reigning as: Southern Decadence Grand Marshal XXXIII (2005 & 2006), Easter Grand Marshal VI (2005) and King Cake Queen IX (2002). She received a proclamation from former Mayor of New Orleans, C. Ray Nagin, in honor of her reign as Grand Marshal of Southern Decadence. Lisa also served on the Board of Directors of the Gay Appreciation Awards, an annual ""Best of the Community"" program founded by Rip & Marsha Naquin of Ambush Magazine. In the seventies and eighties, Lisa was a pioneer in the ""art of illusion."" She gave back by mentoring aspiring performers-acting as drag mother to Bianca Paige and encouraging new talent. A public Celebration of Life will be held at The Corner Pocket, 940 St. Louis St., New Orleans, on Saturday, December 15, 2018, from 3:00 p.m. – 5:30 p.m. The Very Rev. Bill Terry, Rector of St. Anna's Episcopal Church officiating. In lieu of flowers, contributions to the Lisa Beaumann Memorial Fund would be greatly appreciated to help offset funeral expenses. Contributions may be delivered at the service or mailed to Michael Elias, Esq., The Corner Pocket, 940 St. Louis St, New Orleans, LA, 70112. JACOB SCHOEN AND SON is in charge of arrangements. To view and sign the guest book, please visit www.schoenfh.com. Published by The New Orleans Advocate from Dec. 11 to Dec. 15, 2018.
James Booker
McDermott, Tom. "James Booker." James Booker was born on December 17, 1939, in New Orleans. He was a child prodigy when it came to music and was trained classically in piano. As a teenager, Booker started his first band at Xavier Preparatory School. In 1960 Booker enrolled at Southern University in Baton Rouge, but he ended up leaving school to return to the music business, some speculate to supply his drug habit. He recorded the organ-driven single "Gonzo," which was a hit on the charts. In 1970 Booker was arrested for possession of heroin and was to serve two years at the Louisiana State Penitentiary. His good behavior got him out after six months behind bars. After he was released he returned to New Orleans where he started up his career again but then left Louisiana. In 1975 he returned and appeared at numerous festivals in the United States and around Europe. He released five albums during his lifetime. Booker's drug abuse problems with heroin, cocaine, and alcohol abuse hurt both his personal life and his career and eventually took his life. On November 8, 1983, Booker died in New Orleans's Charity Hospital. Booker's still a legendary musician whose popularity has grown since his death. Source: Know Louisiana, 21 June 2013. Accessed 14 Oct. 2017.
Dixie Fasnacht and Andy Boudreaux
Andy Boudreaux
"Andrew Jules 'Drew' Boudreaux." Legacy.com, www.legacy.com/obituaries/theneworleansadvocate/obituary.aspx?pid=172057224. Accessed 11 Nov. 2017. Andrew "Drew" Jules Boudreaux died on Friday, August 8, 2014 at 63 years old. He was a longtime resident of New Orleans, LA. He was a retired maintenance worker for the Jefferson Parish School Board for about 30 years. "Drew" loved carpentry, he also loved to drink coffee at Tastee donut shop, and he liked spending time with family and friends. He was known as "Mr. Fix It"and loved to help others.
Alice Brady
"Alice Lee Brady." Legacy.com, www.legacy.com/obituaries/name/alice-brady-obituary?pid=156528010&view=guestbook. Accessed 10 Nov. 2017. Alice Lee Brady was a legend in New Orleans and owned a popular gay bar. Alice Brady passed away February 25, 2012, at the age of 84 years old. Alice was born in Birmingham, AL but has lived in New Orleans since 1946. Her first bar, "The Mascarade Bar" opened at 819 St. Louis St. in the year 1952 and she then opened Alice Brady's at 514 Ursulines St. Her third location, Mr. D's Hide-A-Way and finally Brady's at 700 N. Rampart St.
Stewart Butler
https://www.nola.com/news/longtime-new-orleans-gay-rights-activist-stewart-butler-dies-at-89/article_5d373d54-5ffc-11ea-8c1c-2be26e205745.html
Alfred M. Doolittle
Alfred M. Doolittle, age 71 years, was swept from his New Orleans Faerie Playhouse home into Heaven by a flock of angels on Sunday, March 2, 2008, at 11:55 PM. Survived by Soul Mate and Love Rock of 35 years, Stewart Perry Butler, his adopted son. Son of the late Jean McLaughlin and Jefferson James Doolittle. Brother of Jefferson Doolittle, Jr. of Larkspur, CA and Mrs. Charles (Jean) Henry, III of Lebanon, PA. Also survived by five nieces, one nephew, a huge loving extended family and numerous friends. Alfred was a native of San Francisco, CA and a New Orleans resident since 1973. He held a Bachelor of Arts degree from the University of California – Berkeley and a Masters' Degree from San Francisco State University in Creative Writing. He was a member of Zeta Psi Fraternity and was a self-employed writer. Relatives and friends of the family are invited to attend a memorial High Mass at St. Anna Episcopal Church, 1313 Esplanade Avenue, New Orleans, LA, on Saturday, March 8, 2008, at 11:00 AM with the Rev. Fr. William H. Terry officiating, followed by a reception at the church. Private entombment in the Garden of Memories Cemetery, Metairie, LA. In lieu of flowers, contributions in Alfred's memory may be made to P-FLAG/New Orleans, P. O. Box 15515, New Orleans, LA 70175. THARP-SONTHEIMER-THARP of Metairie in charge of arrangements. Information: (504) 835-2341. Published by The Times-Picayune on Mar. 6, 2008.
Yvonne "Miss Dixie" Fasnacht
Dixie Fasnacht
Yvonne "Miss Dixie" Fasnacht was the owner of two New Orleans bars where people from the LGBTQ community could socialize comfortably at a time where many people did not reveal their sexual orientation. Ms. Fasnacht at 101 in her Metarie home. Dixie's Bar of Music, was a popular place to go that attracted all different types of people from all walks of life. Pope, John. "Yvonne 'Miss Dixie' Fasnacht." Nola.com, 16 Nov. 2011, www.nola.com/drink/index.ssf/2011/11/yvonne_miss_dixie_fasnacht_bar.html. Accessed 28 Oct. 2017.
Lee "Ms. Fly" Featherston
Lee "Ms. Fly" Featherston
Weeks Hall
"William Weeks Hall." The Shadows, www.shadowsontheteche.org/william-weeks-hall. Accessed 14 Nov. 2017. William Weeks Hall was born in 1894. After his father's death, Weeks Hall lived lived with his mother and Miss Florence and Emma Zacharie in New Orleans. He attended high school, but did not graduate. However he still got scholarships and awards for art to study at the Pennsylvania Academy of the Fine Arts in Philadelphia, which he went to from 1913 to 1918. Then he deferred due to World War I, until 1920 to 1922, when he studied in Paris and London. After school, Weeks Hall returned to New Orleans. Weeks Hall spent a lot of his life preserving his family home and invited many to see it, among them, artists, writers, and filmmakers. Henry Miller, Lyle Saxon, Cecil B. DeMille, Emily Post, D.W. Griffith and Walt Disney were all impressed. In 1958 right before Hall's passing, the National Trust for Historic Preservation accepted the home and property he bequeathed them for preservation and opened the site to the public in 1961.
Tony Jackson
"Tony Jackson." Find a Grave, 10 Aug. 2010, www.findagrave.com/cgi-bin/fg.cgi?page=gr&GRid=56879228. Accessed 7 Oct. 2017. Tony Jackson was a New Orleans born pianist, singer, and composer. Jackson was born on June 5, 1876 and died on April 20, 1921. At a young age Jackson was interested in music and created his own harpsichord and learned how to play hymns and other songs on it. People learned of Jackson's talent and was allowed to practice on neighbor's pianos due to his family not being able to afford one. At 13, Jackson got his first job playing piano at a Tonk Run. By age 15, Jackson was making a name for himself as one of the best pianists in town. Jackson not only played popular music at the time including; ragtime, cakewalks, and blues, but Jackson composed his own music. In 1912 Jackson moved to Chicago, Illinois. Jackson published the song "Pretty Baby" while in Chicago and it was said to be about his male lover at the time. Jackson died in Chicago, Illinois on April 20, 1921. Although Jackson never recorded, his style is still influential to many young artists.
Donald "Donnie 'Jager' Jay" James
Robin Malta
"Robin A. Malta." Legacy.com, obits.nola.com/obituaries/nola/obituary.aspx?pid=89059930. Accessed 14 Oct. 2017. Robin A. Malta died at the age 43 years at his New Orleans home on Monday, June 11, 2007. He was the son of Rosita Pignataro Malta and Luis G. Malta. Robin was born and raised in New Orleans, LA and was a lifelong resident. He was a graduate of John Curtis High School. He was the co-owner along with his sister Monica of Salon D'Malta. He was the Grand Marshall of the New Orleans Southern Decadence Parade in 1998 and was also involved in numerous local charitable fundraising events. Even after Hurricane Katrina he volunteered his time for over a month cutting hair for the National Guardsmen in the New Orleans area.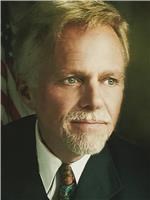 Richard Milton Magill
Richard Milton Magill died May 5, 2016. He was 70. A long-time resident of the French Quarter, Rich was a homebuilder and gay activist. Born in St. Louis, he was reared in a military family and lived in six different places by the time he was graduated by Autauga County High School in 1964, in Prattville, AL. Afterwards, he attended the University of Alabama and was graduated in 1968. He entered the United States Air Force and was honorably separated in 1972 at the rank of Captain. After traveling through Europe he entered the University of Florida to study building construction and was graduated in 1975. He worked in Fort Lauderdale, Montgomery, AL, Austin, TX, and Seagrove Beach, FL, building houses until spinal problems forced him to retire at age 40. Rich moved to New Orleans in 1986 and until 1991 was active in gay politics. In 1991 LAGPAC published his study of violence and discrimination against lesbian and gay people in New Orleans, Exposing Hatred. Rich considered December 12, 1991, the happiest day of his life. That was the date that the New Orleans City Council prohibited discrimination in jobs, housing in public accommodations on the basis of sexual orientation. Rich was a member or supporter of Mensa, Disabled American Veterans, Human Rights Campaign, LAGPAC, NOW, P-FLAG, NAACP, Compassion and Choices, Beta Theta Pi, ACLU, NO/AIDS Task Force, Sierra Club and the Democratic Party. Rich was preceded in death by his life partner, John Horn Foster, and his parents, Milton Harold Magill and Patricia Thelma Richards Magill. He is survived by his sisters Linda Lee Magill Herring and Sherry Patricia Magill, and his brother James Robert Magill, Sr., two nieces, one nephew, and three grandnieces. Services will be private. His ashes will be inured at Arlington National Cemetery. Memorials to P-FLAG. www.prattvillememorial.com. Published by The New Orleans Advocate from May 9 to May 10, 20
Marcy Marcell
"Grand Send-Off: Queen of North Rampart." Ambush Online, www.ambushmag.com/marcymarcell.htm. Accessed 21 Oct. 2017. Marco, Marcy Marcell, Sperandeo passed away at the age of 63 on April 11, 2011. Marcy is survived by his beloved brothers and sisters Sidney Sperandeo and wife Gail Sperandeo, Sylvia Childress, Mary Broders, Jo Donna Dupuy, Andrew Sperandeo and wife Tammy Sperandeo. He was a lifelong resident of New Orleans, Louisiana. Marcy was very involved in the New Orleans community as the founder of the Gay Appreciation Awards, founder of the Golden Age Revue and Marcy & The Marcells Revue; Easter Grand Marshal X in 2009, the recipient of the 20th Lifetime Achievement Award in 2007; and spent over 40 years in show business.

Rip Naquin
Hughes, Cathy. "Rip Naquin." The New Orleans Advocate, 10 Aug. 2017, www.theadvocate.com/new_orleans/news/article_0bdd1228-7ddf-11e7-b1cc-a3b12a7e1d51.html. Accessed 28 Oct. 2017. Rip Naquin, who had the first same-sex domestic partnership to be reigstered in New Orleans in 1993, died at was 63. Naquin is known for publishing a biweekly magazine called Ambush, with his partner known as Marsha Naquin-Delain. They were two of the grand marshals of Southern Decadence in 2015. Naquin had a major role in the evolution of Southern Decadence from an exclusive party in 1972 to a major weekend event.
Marsha Naquin-Delain
Marsha Naquin-Delain, as he was known to his many friends in the New Orleans community, died at his residence on Thursday, December 14, 2017. Born Marion M. Greeson in Baton Rouge, LA on June 17, 1953, he was a resident of New Orleans since 1985. He was the spouse of the late Robert J. "Rip" Naquin, who preceded him in death on August 8, 2017. He is the son of James Greeson Sr. and the late Betty Newsom Greeson. Stepson of Betty Greeson of Sherman, TX. Brother of James Greeson Jr. (Cathy) and uncle of James Greeson III and Dana G. Duet. Marsha was co-owner along with his late husband of the Ambush Magazine. Relatives and friends are invited to attend a Funeral Mass at St. Anna's Episcopal Church, 1313 Esplanade Ave, New Orleans on Saturday, December 23, 2017 at 11:00 AM, with visitation beginning at 10:00 AM. The Rev. Fr. William Terry will officiate. Kindly omit flowers. Memorials are suggested to Food for Friends or St. Anna's Place-NOLA. Condolences may be expressed online at www.tharpsontheimerfh.com. THARP-SONTHEIMER-THARP Funeral Home of Metairie is in charge of arrangements. Information, (504) 835-2341 Published by The Times-Picayune from Dec. 18 to Dec. 22, 2017.
Tonie Pizanie
Tonie Pizanie, 69 years, left her worldly home to forever dwell with God, her guardian angels, her beloved Chuck and her family gone before on Tuesday, October 5 due to complications from pancreatic cancer in the comfort of her own home. Toni lived an active life and became involved with many diverse parts of the community through her volunteerism over the years. She started volunteering in her teens at Charity Hospital and Munholland United Methodist Church. She worked with people with HIV/AIDS and NO/AIDS Task Force for many years. Toni's work at the LGCCNO culminated with her receiving their Lifetime Achievement Award earlier this year. Toni served on the board of LAGPAC for many years and interviewed political candidates on GLBT issues for AMBUSH Magazine for 15 years. She also wrote articles dealing with Religious and Bible Abuse in the Gay community. She was an early advocate for the transgender community. Toni helped organize the 25th Upstairs Fire Memorial, volunteered with Shewolf. She served as Chair of the Mayor's Advisory Committee and wrote the curriculum for GLBT awareness & taught sensitivity classes to the NOPD, EMS and Firefighters. In 1998 Toni was honored to be named Grand Marshal of Pride along with Stewart Butler. In 2003, Toni was the 1st female Queen and was crowned Queen Petronius 42nd. In 2004, Toni won Miss Marigny Leather III, Miss Possum Holler III and Miss Gulf States Olympus. She was president of the Gay Appreciation Awards and honored in 2010 with the Special Award for Dedication for her years of service. Toni was active as a board member & volunteer of PFLAG N.O. where she funded an annual scholarship in honor of her late husband, Clarence "Chuck" Pizanie. Toni was the daughter of the late Dorothy Richey Blanchard and Joseph Pagano, the stepdaughter of the late Joseph Blanchard. She was predeceased by her beloved great dane Tom and most recently Freddie, her beautiful standard poodle. She is survived by her beloved goddaughter, Amy Johnson Tower (Bud), of New Orleans and enough "chosen family" to repopulate our city. A Facebook memorial page has been set up by her friends: No Tears, Just Laughter-The Toni Pizanie Memorial Group. Family and friends will gather Saturday, October 23, at 5 pm at The Big Easy MCC, 1333 S. Carrollton Ave to celebrate Toni's life. A reception will follow at the church. In lieu of flowers, Toni requested that donations be made to: PFLAG Scholarship Fund, P.O. Box 15515, New Orleans, LA 70175-5515. Published by The Times-Picayune on Oct. 22, 2010.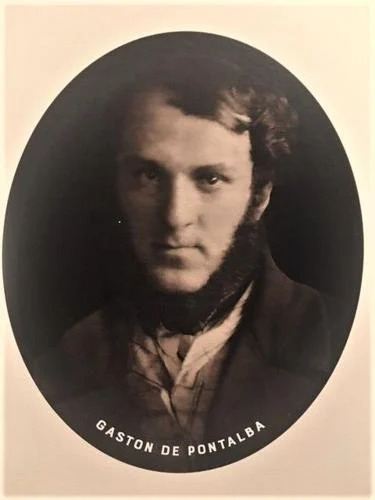 Gaston de Pontalba
Gaston de Pontalba (1828-1875) Birthplace: France Addresses: New Orleans, active 1848-51 Profession: Sketch artist, musician Comments: Both his parents, Joseph Xavier CÈlestin Delfau de Pontalba and Micaela Leonarda Almonester, were born in Louisiana of prominent families. After they divorced (1838) Gaston lived in Paris with his mother, until the 1848 Revolution forced them to leave France. Madame Pontalba and her sons Gaston and Alfred fled to London and then returned to New Orleans. They stayed until 1851, and their trip was recorded by Gaston in a diary and sketchbook that was eventually published as Voyage à la Nouvelle OrlÈans du Fev. 1848 au 7 Mai 1851. Included were city views, primarily of the Place d'Armes (now Jackson Square). This famous site consists of two rows of apartment buildings, facing each other across a square, which were constructed by Gaston's mother (to this day known as the Pontalba Buildings). He returned to Paris in the spring of 1851 and continued to pursue his interest in art, publishing prints of French estates and castles. From Artprice.com Sources: G&W; Encyclopaedia of New Orleans Artists. 312-13.
Pat "Estelle" Ritter
"In Memory of Pat Ritter." Dignity Memorial, obits.dignitymemorial.com/dignity-memorial/obituary.aspx?n=Pat-Ritter&lc=7192&pid=169876659&mid=5866451. Accessed 21 Oct. 2017. David Patrick Ritter, also known as "Pat", passed away on February 19, 2014, due to illness. Pat was born and raised in New Orleans, LA on July 9, 1956. He was a life long resident of Louisiana. He graduated from Promised Land Academy, a high school in Braithwaite, LA in the year 1974. Pat then went to the University of New Orleans and received a Bachelor of Arts degree in 1979. He was very involved in New Orleans and was named Grand Marshal of Southern Decadence in 2001. Pat also shared a very special decade long relationship with his partner, Jacob.
Errol Rizzuto
"Errol Charles Rizzuto." Published in The Times-Picayune from Nov. 3 to Nov. 5, 2017. Retrieved from http://obits.nola.com/obituaries/nola/obituary.aspx?pid=187120892. Errol Charles Rizzuto passed away on October 29, 2017 at the age of 57. He was the beloved son of the late Jack Rizzuto Sr. and Rosemary Bremerman Rizzuto. Loving brother of Jack Rizzuto Jr., Margaret Rizzuto, Carey Rizzuto (Mary Ann), Bobbi Rizzuto, Dennis Rizzuto and Terri English. Also survived and fondly remembered by many nieces and nephews. Errol had an unmatched zest for life that was surpassed only by his love for Mardi Gras. He was a most talented artist & well known for his incredible costume design, many worn by his fellow crew members of Amon-Ra, as well as himself. He was a proud member of Amon-Ra, and was to be 2018's Bal Captain of the Krewe. Errol was also Southern Decadence royalty as 1999's Grand Marshall – 'The Dark Lady Tour.' In addition to his love of Mardi Gras, he was a most generous & compassionate Soul, helping others as often as he could. He was a staunch supporter of St. Anna's Episcopal – Food Bank & a proud member of the St. Joseph's Altar Society on Bourbon Street, where he gladly provided food & cooking needs. Errol was also a revered employee of Wood Enterprises for the Clover Grill for many years. He will be forever remembered and deeply missed by his family and many, many friends. Relatives and friends are invited to attend a memorial visitation to be held at ST. BERNARD MEMORIAL FUNERAL HOME, 701 W. Virtue St., Chalmette, LA on Wednesday, November 8, 2017 from 10:00 AM – 12:00 PM. A memorial service will begin at 12:00 PM. Inurnment will follow in St. Bernard Memorial Gardens. In honor of Errol's memory, Wood Enterprises will also host a reception following the services at SB Funeral Home in the 'upstairs' lounge of Café Lafitte in Exile on 901 Bourbon Street @ 4pm directly across from Clover Grill – all are welcome. In lieu of flowers, donations may be made to St. Anna's Episcopal Church – Food Bank 1313 Esplanade Ave. New Orleans, LA 70116. Or St. Joseph Alter Society on Bourbon Street – 1028 Bourbon St. New Orleans, LA 70116.www.stbernardmemorial.com
Alan Robinson
Alan Robinson (1949-2012), a prominent New Orleans gay rights activist, ran Faubourg Marigny Books on Frenchmen St. for 16 years. Robinson became active in the local gay rights scene after he moved to New Orleans in 1975. He first worked at the Gay Service Center (a short-lived community outreach effort) before co-founding the Gertrude Stein Society with Bill Rushton and Ann Gallmeyer. In addition to promoting LGBT authors at his book shop, Robinson co-founded the New Orleans/Gulf South Booksellers Association. Robinson helped organized the 1977 New Orleans protest against Anita Bryant, and a year later the Pink Triangle Alliance commemorated the first anniversary of that protest with another rally in Jackson Square—an event that gave birth to Gayfest, which evolved into New Orleans' annual Pride celebration. In 1980, Alan Robinson helped to found a new organization that would be fully dedicated to using the political process to advance the cause of lesbian and gay equality. For the next 25 years, he Louisiana Lesbian and Gay Political Action Caucus (LAGPAC) became a powerful voice for the LGBT community and demonstrated to the gay community that it could, in fact, make a difference. That group's signature achievement was the 1991 passage of the non-discrimination ordinance by the New Orleans City Council. Robinson's papers are housed by the Louisiana Research Collection at Tulane University. Written by Jim Meadows in 2020.
Lyle Saxon
Thomas, James. "Lyle Saxon." Know Louisiana, 20 May 2011, www.knowlouisiana.org/entry/lyle-saxon. Accessed 14 Oct. 2017. On September 4, 1891 in Baton Rouge, Louisiana, Lyle Chambers Saxon was born. The child of Katherine Chambers and Hugh Allan Saxon, Saxon was raised his mother and her parents. Saxon became a newspaper reporter after attending Louisiana State University in Baton Rouge. As a journalist, he worked in Chicago, Baton Rouge, and New Orleans. Saxon was also a non-fiction writer. On April 9, 1946, Saxon due to complications from his surgery. Saxon was a great writer who unfortunately often struggled with alcoholism, chronic health issues, and procrastination. Even with these setbacks, he still wrote and/or edited eight books, as well as numerous other works.
Charlene Schneider
"Charlene Schneider's Remains to be added to Memorial Garden." Ambush Online, www.ambushmag.com/is607/images/607main26-30.pdf. Accessed 21 Oct. 2017. Charlene Schneider was the owner of the very famous "Charlene's" at 940 Elysian Fields Ave. on the corner of N. Rampart for over 20 years. In 1999 she closed her bar and moved to Bay St. Louis, MS, which was her hometown. Quickly after, "Charlene and Lindas's On the Coast" opened and The Breast Cancer Foundation, M.A.P. at the Hancock Memorial Hospital was founded.
James "Jay" Lamont Sewell
James "Jay" Lamont Sewell
Jay, as he was affectionately known, passed from this world on Friday, June 22, 2018, following a long illness. He had survived cancer surgery in 1997 to spend an additional two decades with his loving partner in life, Michael T. Elias, Esq., owner of the Corner Pocket Bar in New Orleans. The couple spent 35 years together and had cared for three adorable fur babies during their relationship: Callie, Tigger, and Minou.
Jay—a descendant of early Texas and Illinois pioneer families—was born in Austin on December 6, 1948; the family later moved to Corsicana. He is survived by his brother, Jay Hoover Sewell. He was preceded in death by his Father, James Carroll Sewell (1912 – 1976), and Mother, Janet Hoover Sewell (1918 – 1975).
Jay was the longtime daytime bartender at the Corner Pocket, at which he worked for nearly twenty years (1983 – 2002). He teamed up with beloved local entrepreneur and entertainer Lee Fetherston (Ms. Fly) soon after the bar opened. The two famously performed together, once re-enacting a drag version of "What Ever Happened to Baby Jane?" Following Lee's untimely death, his partner in life, Michael, purchased the bar in 2001.
Jay was a graduate of Corsicana High School in 1966, where he played drums in the high school band. He attended North Texas State University in Denton and later graduated from beauty school in Dallas.
In the early seventies, Jay moved to New Orleans, where he initially worked at D.H. Holmes Department Store as a hair stylist to many colorful local personalities.
FAMILY HISTORY
Jay's great great grandfather and his father were both highly respected members of the Texas Legislature. On his mother's side, his grandfather was the oldest practicing veterinarian in Northern Illinois at the time of his death (1945).
His father, who was blinded during the war in the Pacific, graduated from the University of Texas School of Law with honors following World War II.
His Mother was a graduate of the University of Illinois in Geology (1940); during World War II, she worked for Cities Service Oil Co.
Jay was born amidst the baby boom. After the war, the family moved to Navarro County, Texas (1952). His father was appointed County Judge, and later elected State District Judge.
His younger brother, Jay, was born there in 1955. He says that James "Jay" "inherited his Father's tenacity for living large—and living life on his own terms."
SERVICE
There will be a public Celebration of Life at The Corner Pocket, 940 St. Louis Street, New Orleans, on Sunday, July 1, 2018, at 3:00 p.m. The Very Rev. Bill Terry, Rector, of St. Anna's Episcopal Church, will officiate.
In lieu of flowers, donations to the Louisiana SPCA (https://www.la-spca.org).
Special thanks to Niles Monnin and Matt Downey, Jr., personal caregivers, the entire family at the Corner Pocket for their love and support in difficult times and to Rev. Bill Terry and St. Anna's Episcopal Church for their love and support.
Arrangements handled by Tharp-Sontheimer-Tharp Funeral Home.
Clay Shaw
"Remembering Clay Shaw and the JFK conspiracy theory that wouldn't die." Nola.com, www.nola.com/300/2017/01/clay_shaw_and_the_jfk_conspiracy_trial.html. Accessed 16 Nov. 2017. Clay Shaw passed of lung cancer on August 15, 1974 at 61. He was the director of the International Trade Mart, and is famous for being found not guilty of a charge that said that he had been part of a conspiracy to assassinate President John F. Kennedy. Shaw was the only person prosecuted in connection with the Kennedy assassination. Shaw's acquaintances knew that he was gay and many people thought that that was why he was arrested.
https://www.nytimes.com/1974/08/16/archives/clay-shaw-is-dead-at-60-freed-in-kennedy-plot-new-orleans.html
William Spratling
Goddard, Phyllis. "William Spratling Biography." Spratling Silver, www.spratlingsilver.com/spratling.htm. Accessed 7 Oct. 2017. William Spratling was born in Sonyea, New York in the year 1900. In 1910, Spratling and his father moved to live with family in Alabama after the death of his mother and his sister. By 1912, the three remaining Spratling children were split up and all living with various family members. In 1917, William Spratling started attending Auburn University and studied architecture. After graduation, Spratling moved to New Orleans in 1921 and became an associate professor at Tulane University. Spratling became well-known in New Orleans and in the architecture world for publishing in numerous magazines and for befriending William Faulkner and publishing Sherwood Anderson and Other Famous Creoles in 1926 together.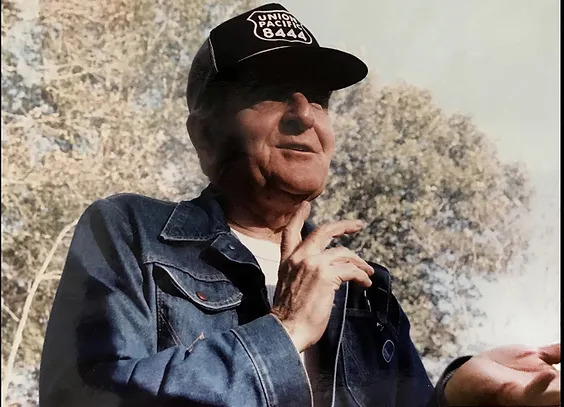 Blanchard "Skip" Ward
Blanchard "Skip" Ward parted this life due to congestive heart failure on June 13, 2007. He was 86 years old and a navy veteran, having joined in 1938. Upon his discharge, he returned to his central Louisiana home, eventually establishing his residence in Pineville across the Red River from Alexandria. As the years passed, Skip gradually became known as the singular publicly OUT gay voice in central Louisiana. For a number of years he published Le Beau Monde, a GLBT Newsletter. In time he purchased an old 12 acre Boy Scout Camp which he named Manitou Woods. He had hopes that it would become a well known and used the site for all sorts of GLBT gatherings. In 1998 Skip was awarded the Human Rights Campaign's Community Service Award.
Survivors include his Lifemate Gene Barnes, a sister Teen Smith of Oklahoma City, and a nephew Don Ward, Jr. of Alexandria. In lieu of flowers, contributions in memory of Skip may be sent and made payable to New Orleans Public Library, 219 Loyola Ave., New Orleans. LA 70112 (ATTN: Walter Mascari). Proceeds will be used to purchase books re: the GLBT Community and inscribed with the memory of Skip. Persons interested in memorial gatherings may call Stewart Butler at 504.523.3922. Published in Ambush Magazine, July 3, 2007.
Jamie Temple
From the Sun Herald: Jamie Temple, owner of the Buttercup on Second Street in Bay St. Louis and former owner of The Phoenix bar in New Orleans, lost his year-long battle with cancer on January 4, 2021. He was 63.
Jamie was raised in Union, NJ, where he graduated from Union High School. Shortly after graduation he moved to San Francisco, where he worked as a bartender, then joined the US Coast Guard and was stationed in New Orleans. He fell in love with the city and remained there after his discharge from the Armed Services.
In New Orleans, Jamie owned The Phoenix bar. He was a founder of the New Orleans AIDS Task Force and was one of the first to hold a fundraiser for that organization. He also volunteered with Buzzy's Boys, a group that helps AIDS victims seeking guidance, financial support and medications.
Jamie was a longtime activist, fighting to stop police discrimination against the LGBTQ community. Empathetic toward people who have fallen on hard times, Jamie once invited a person off the streets and into his home; the man later said, "Jamie saved my life that night." He regularly opened his businesses for fundraisers and meetings, happily emceeing any event.
Jamie also supported the leather community in New Orleans and hosted numerous fundraisers. He was Grand Marshall for Southern Decadence and founded the city's largest street party to kick off the festival, "Knight of the Black Mask." He was also an active member of the Lords of Leather Mardi Gras Krewe. Jamie loved the city and enjoyed volunteering as a tour guide in the French Quarter for the National Park Service.
Jamie moved to Waveland in 2005, just weeks before Hurricane Katrina, purchasing the Buttercup on Second Street in Bay St. Louis, which at the time was a bakery and ice cream shop. Both the bakery and his home were severely damaged by the storm, leaving him living in a trailer for more than a year. Undaunted, his vision transformed the battered Buttercup into one of Old Town's most successful restaurants and landmarks. Jamie could often be found pouring coffee and sharing jokes with his loyal customers, soon to be friends. He was also truly beloved by his employees.
In his spare time, Jamie also enjoyed acting in local theater.
Jamie leaves behind his longtime partner and husband of seven years, George "Marney" Cossitt; his brothers and sisters-in-law, John and Dena Temple of Waveland and Tom and Neva Temple of Edison, NJ; nephew Forrest Temple of California; nieces Dale Temple of Edison, NJ Glynne Temple Richards of Seaford, Del.; aunt Lorna Ress of Pembroke Pines, Fla.; and countless cousins and friends. Memorial donations can be made to your local animal shelter.
Jerome Williams
"Jerald Jerome Williams." Majestic Mortuary Service Inc., www.majesticmortuary.com/obituary/2795508. Accessed 14 Oct. 2017. Jerald "Wop" Jerome Williams died on October 27, 2014. He was the son of the late Willie and Ethel Mae Lockett Williams, Sr. He was the father of Shanise (Kevin) Johnson, Patrice (Lawrence) Ballard, JeralynB. (Whitney) Marcell, Keisha J. Williams, Sherritha Williams Weber and Darryl Williams. He was the Ex-Husband of Sherry Williams. He was the Grandfather of Ganiero Ballard, Rashad "Lil Chuckee" Ballard, Authur McGinnis, KeiShon Johnson, Keianna Johnson, Austin McGinnis, Karl Johnson, Whitney M. Marcell and Royal Weber, Jr.
Tennessee Williams
Gussow, Mel. "Tennessee Williams is Dead at 71." The New York Times, 26 Feb. 1983, www.nytimes.com/books/00/12/31/specials/williams-obit.html. Accessed 7 Oct. 2017. Tennessee Williams died at the age of 71 in New York City. , whose innovative drama and sense of lyricism were a major force in the postwar American theater, died yesterday at the age of 71.Tennessee grew up in Saint Louis and was a very shy child. He attended both the University of Missouri and the University of Iowa. At 28, Williams moved to New Orleans and this is when his career really started to take off. Williams is known for being the most important American playwright after Eugene O'Neill. He wrote more than 24 full-length plays, including ''The Glass Menagerie,'' ''A Streetcar Named Desire,'' ''Cat on a Hot Tin Roof."
Danny Wilson
"Danny Joseph Wilson II." Legacy.com, www.legacy.com/obituaries/name/danny-wilson-obituary?pid=1000000173176768&view=guestbook. Accessed 7 Oct. 2017. Danny Joseph Wilson II was born on August 13, 1983. He died at age 31 on November 11, 2014. He lived in New Orleans his whole life. He was born to Danny Joseph Wilson Sr. He was a graduate of Abramson High School in 2001 and he attended Southern University of New Orleans.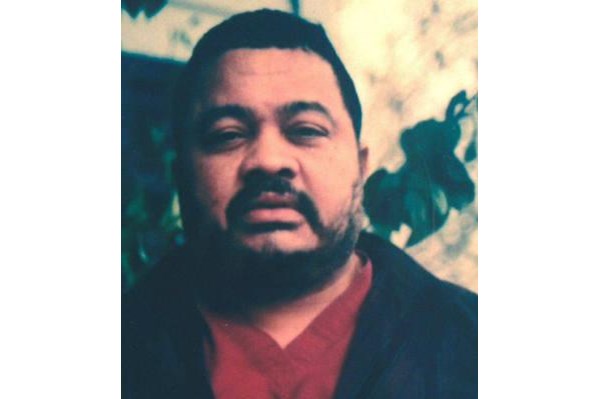 Frederick Douglas Wright
August 26, 1946 – March 19, 2014 LAFAYETTE – Memorial services will be held Saturday, March 29, 2014 at 2:00 p.m. at Syrie Funeral Home for Frederick D. Wright, 67, who died March 19, 2014 at Touro Infirmary Hospital in New Orleans, LA. Services will be conducted by Fr. Hampton Davis, III. He is survived by two sisters, Paulette Wright and Koridea Wright-Phillips; one brother, Michael Wright, all of Lafayette, LA; step-mother, Charity Wright of Compton, CA; one brother-in-law, Carle Wooley of Chicago, IL; aunts, uncle, nieces, nephews, extended family and friends.
He was preceded in death by his parents, James and Audrey St. Julien-Wright; two sisters, Charlon Marie Wright and Theora Wright-Wooley; paternal grandparents, James Walter Wright and Emma A. Sadler; maternal grandparents, Germaine and Olive St. Julien.
Visitation will be held Saturday March 29, 2014 at Syrie Funeral Home from 1:30 p.m. until 2:00 p.m.
Sign the guestbook online at www.syriefh.com
Arrangements have been entrusted to Syrie Funeral Home, Inc. of Lafayette, LA.
Published by The Advertiser on Mar. 28, 2014.